4K 8K Best HDMI Extenders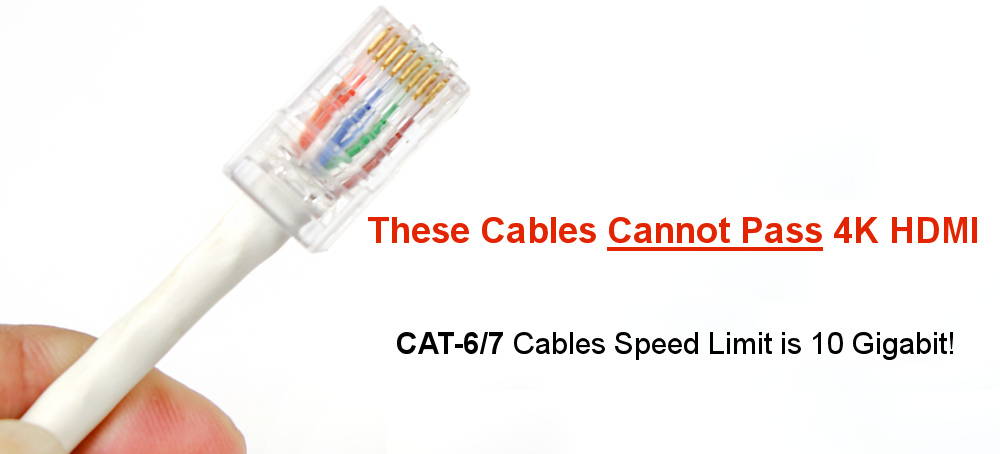 Real 4K HDMI Requires 18 - 48 Gigabit cables to pass 4K 8K Dolby Vision Atmos 60/120Hz eARC with full quality 4:4:4 UNCOMPRESSED. No CAT-6/7 cable can pass it.

Any Price - Any Brand - The cable won't pass Full HDMI but Compressed signals. All Extenders lose Your quality IN The Cable.
Save Money
Save Time
Improve Quality
The New HDMI Extenders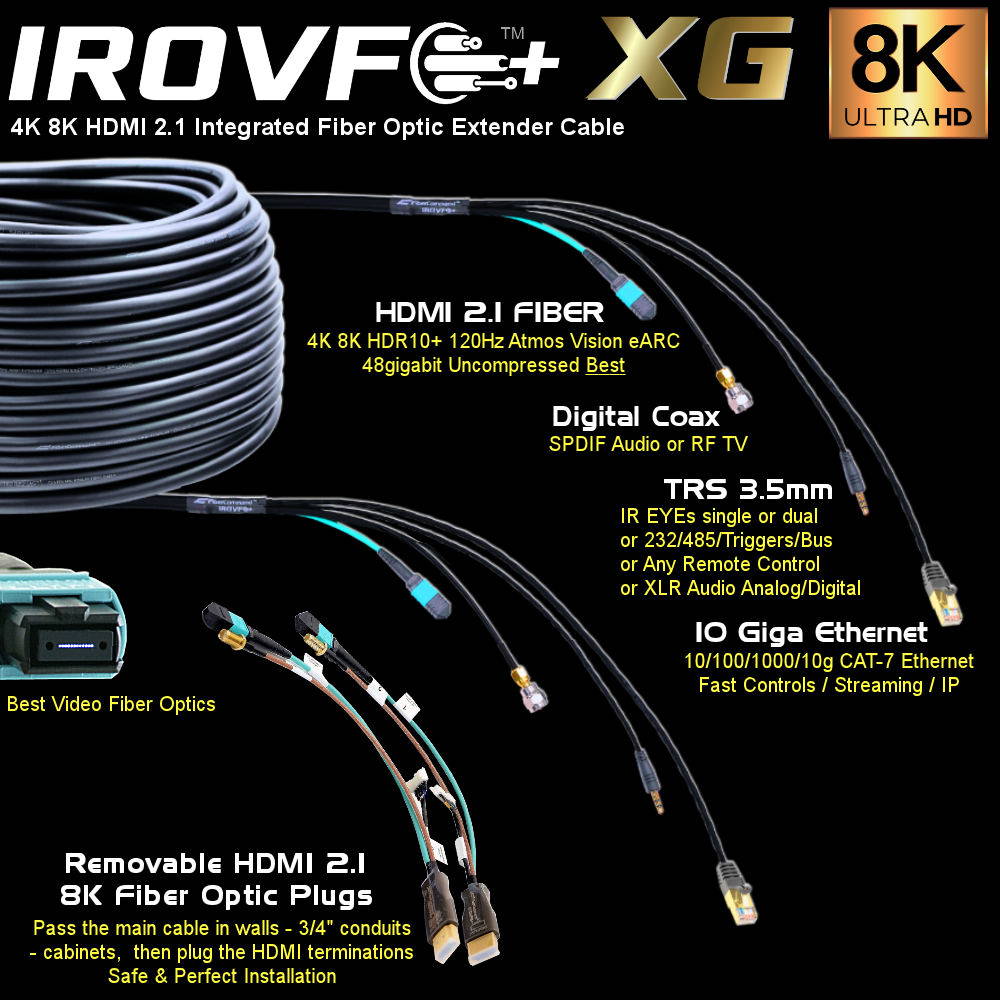 IROvF Is the New Technology Integrated HDMI Fiber optic Extender cable that completely replaces all the traditional HDMI extenders converters boxes and the related CAT-6/7 copper cables for a modern Fiber-Optic Speed HDMI distribution.
There is no need for any other parts as the IROvF Fiber Cable already includes the HDMI adapters and the signals connectors for an easy Plug 'n Play istallation anywhere without requiring any configuration nor external power supplies.
Compatible to any source, matrix, TVs, Projectors, the IROvF HDMI 2.1 Fiber Extender Cables delivers a perfect HD/4K/8K 4:4:4 uncompressed HDMI HDR10+ Video quality with full 48gigabit bandwidth up to 120Hz and No Delays.
In-Wall Rated for any Residential Commercial Industrial applications, the Exclusive patented removable HDMI 2.1 plugs simplifies the installation anywhere, passing the main cable in walls, conduits, cabinets, without the risk of damaging the HDMI plugs. With IROvF you just pull the cable, and The Cable Does It ALL.
Ultra HDMI Extender Integrated Fiber Optic Cable
Extend any HDMI up to HDMI 2.1 standard 48Gigabit speed Uncompressed Zero-Lag including resolutions as 4K@120Hz HDR10+ 4:4:4, 8K@60, 1080i 1080p 720p 480i 480p 3D up to 240Hz or lower & PC formats. HD/4K/8K/10K HDMI 2.1 48Gbps 4:4:4 120Hz HDR10+ Vision Atmos ARC eARC VRR ALLM DSC QFT QMS D-HDR HLG Ethernet Enhanced CEC
Any Audio - Same as the Original
any audio format & bitrate is supported including Full Uncompressed Atmos, TrueHD, THX, or any lower format, without introducing any compression, same as the original at the source..
3.5 mm IR / 232 / TRS / Triggers / XLR link
3.5mm TRS jack to connect any IR Infrared Remote blaster Eyes, or TV to AV receiver direct, or RS232/485, or any analog digital audio also balanced XLR. This link is a full speed analog/digital bi-directional link and can be used for any signal or control. For multiple IR Infrared Control, this plug is compatible to any IR blaster kit such as our IR KIT accessory. This 3.5mm TRS plug can also be used as USB Extension for gaming controllers with absolute ZERO LAG using our USB-ZERO accessory.
10 Gigabit Ethernet Link
totally dedicated ethernet brings full speed Lan connectivity to any device for control, USB, Gaming, Streaming
Digital Coaxial Link
use for any SPDIF or MOCA or RF TV or any other analog/digital data including control busses or mixed signals also with voltage or as Power Supply to end point devices
Auto-Compatible to any EDID
does not require any manual settings
Support any HDCP up to 2.3 or higher
fiber optics passes any today & tomorrow HDCP protocols
No External Power Supply required
self powered when the HDMI source is connected & turned on
Zero-Delay
No need to adjust audio delays on amplifiers as there is no delay, no compression like in every Extender.
4:4:4 Uncompressed HDR10+
absolutely perfect video quality no CAT-6/7 extenders can do
400 Gigabit Fiber Optic for any future Video Format
can support today & tomorrow HDMI formats without replacing the cable
HDMI heads are removable and already supports 10K Video
ARC eARC Audio Return Channel
fully featured Uncompressed ARC/eARC to send audio from the TV to the AV receivers
Enhanced CEC Remote Control Support
Our Consumer Electronic Control enhanced link discovers & control any CEC HDMI source connected in the system from the TV remote control
Maintenance-Free & SAVE Your Money
Different from any Extender box, IROvF integrated fiber cables does not Heat, there are no Cooling Fans, No Noise, No continuous electricity consumption, no firmware or software to upgrade to work with future TVs or Sources. IROvF HDMI Extenders works today & tomorrow always delivering.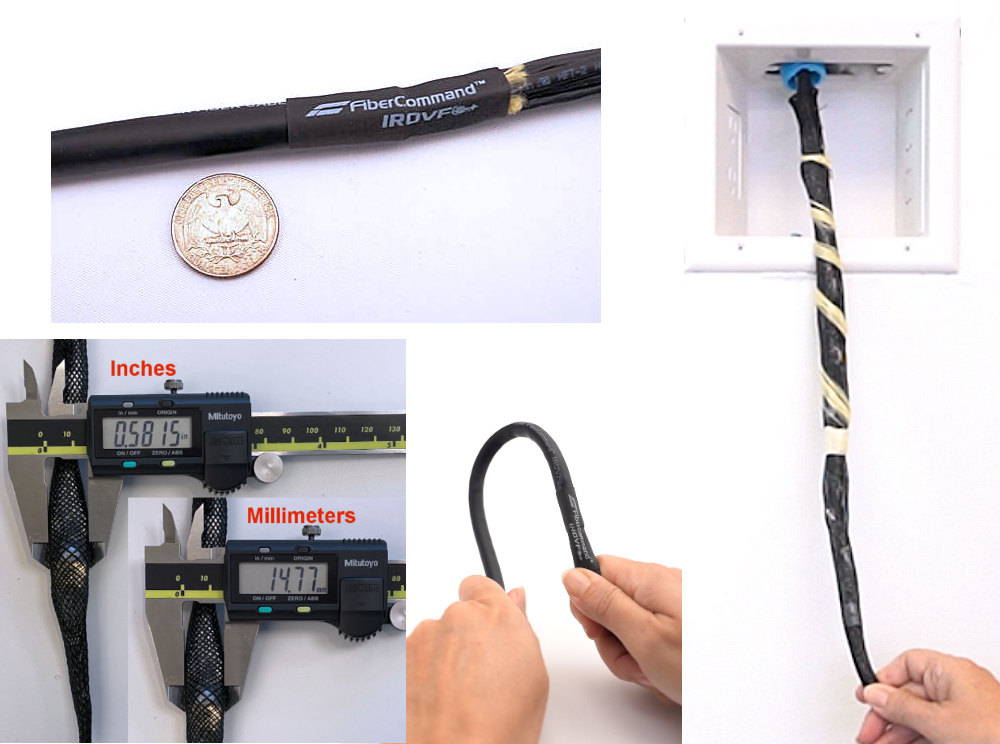 IROvF comes pre-wrapped in a kevlar-nylon braided sleeve ready to pull in wall or electrical conduits using the old cable ot a fish tape. Only 0.58 Inches of max diameter CL3 FT4 Plenum Fire Rated for any residential or commercial and Reinforced with unbreakable Kevlar it can pull with force through any crowded 3/4" conduits also with right angle turns without any risk of damaging the professional fiber optics we use.

IROvF HDMI Extenders Fiber Optic Cables connects directly or via standard keystone wall plates Without Requiring Any Power Supply as the power is taken when you plug the HDMI source. IROvF makes the HDMI Extenders installations Simpler & Clean.
IROvF XG HDMI 2.1 Fiber Optic Cable Extender replaces any Ethernet based extender to full speed uncompressed quality with also network, control and multi-purpose Coax.

IROvF PRO Adds More TRS links for extra controls, triggers, audio, usb, bus, and extra fibers to add multiple HDMI 4K/8K over the same cable. The extra fibers can also support a mix of signals including VR, KVM, USB-C 3.2 at full speed, VR virtual reality, etc.

IROvF Fiber Extenders Cables are compatible also with automation matrixes such as Crestron & Control-4 to distribute signals to every room with full fiber speed and uncompressed 8K video quality



With more than 30 world-wide technology patents IROvF is the most advanced revolutionary HDMI Extender for modern 4K 8K 10K multimedia video distribution, Industry-recognized with many awards.
Mon-Fri 9am-5pm Est - Florida USA