Wire Homes For the Future
With Fiber Optics Speed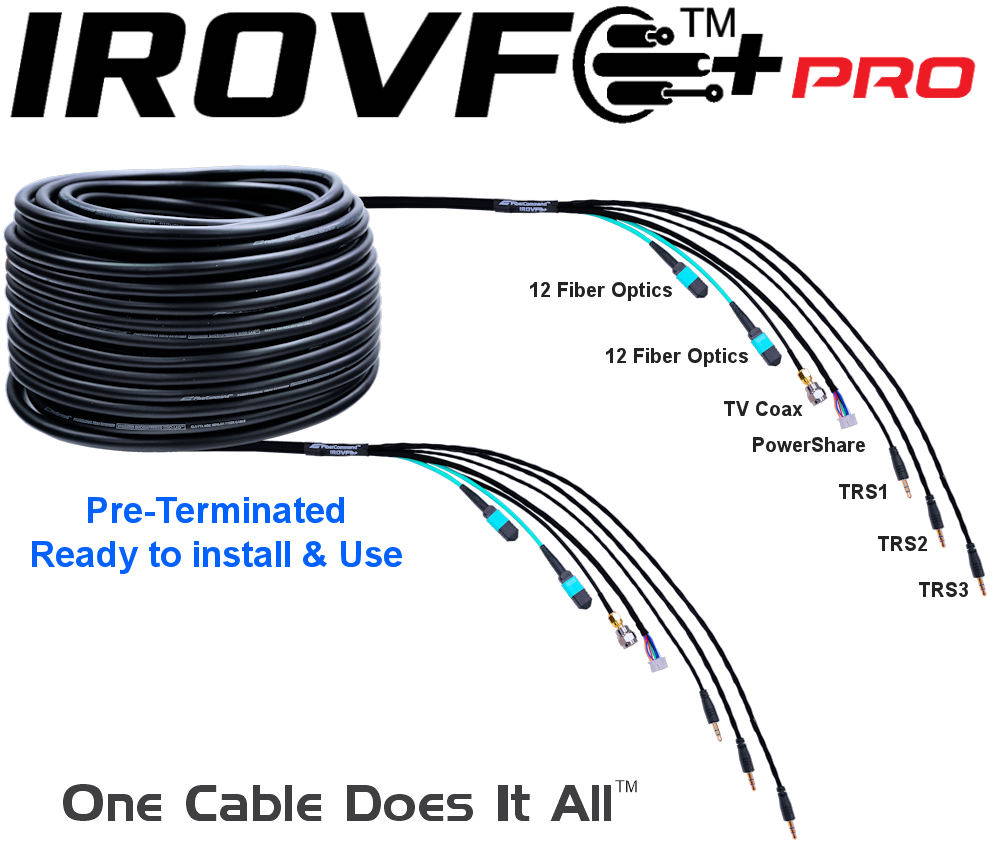 Fibercommand IROvF is the next generation Integrated Fiber Optic Wiring Cable to pre-wire Homes for the modern Fiber Internet & 8K Television delivering full fiber speed quality to every room with 2.4 terabit of bandwidth to satisfy any entertainment, data, tv, multimedia, sound connection.
Install the IROvF cable today, decide tomorrow what to connect, limit is the sky.
Copper Cables are limited in speed and introduces Lags no more acceptable with modern fiber internet, Streaming, Gaming, work from home and TV.
Moreover CAT-6 cables do nothing without expensive converters adapter boxes to connect any signal, which also increase the 24/7 energy bills.
IROvF is ready to connect, no need for converters, and delivers full fiber speed connection to every room together with auxiliary plugs to connect everything you need today and tomorrow, with the integrated flexibility we always wanted for our future-proof homes.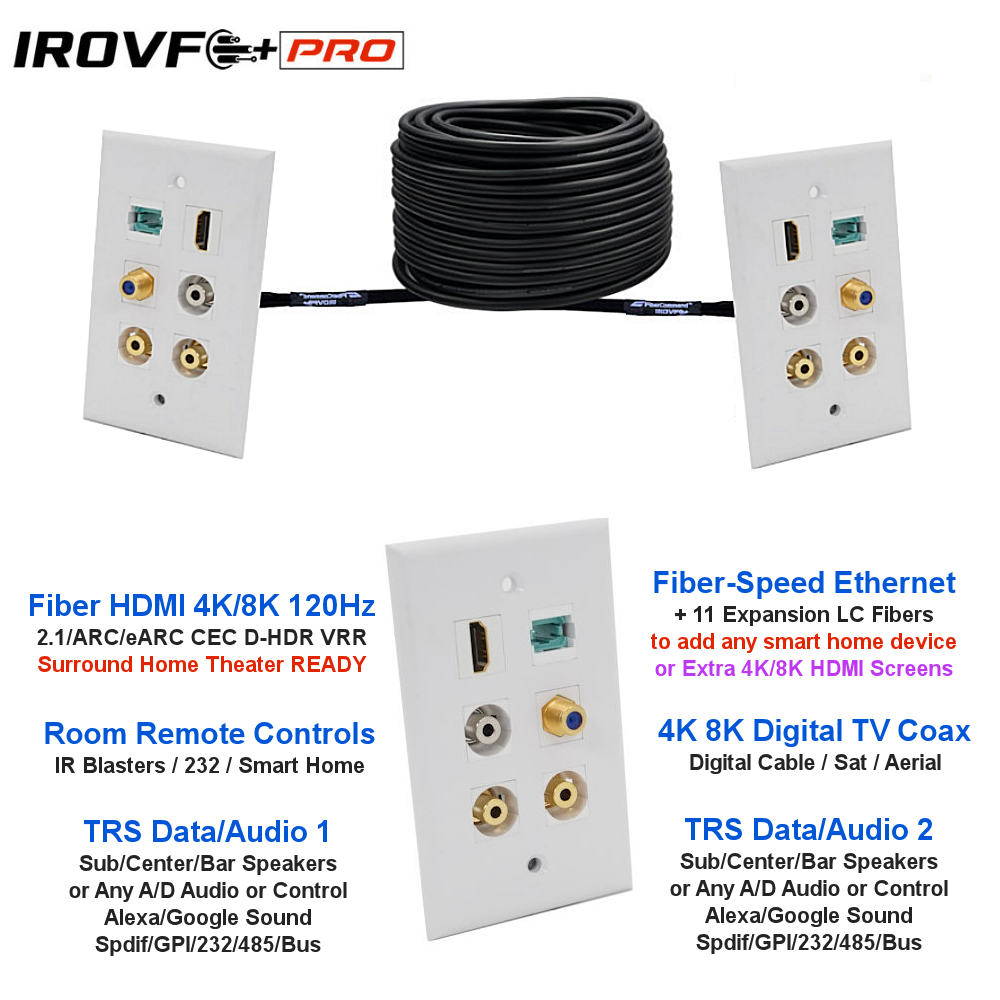 Fibercommand IROvF fiber cables brings unlimited connection flexibility to every room, Living Room, Bed Rooms, Game Room, Man Cave, Patio, Office, all connections are always available without limiting todays and tomorrow ideas.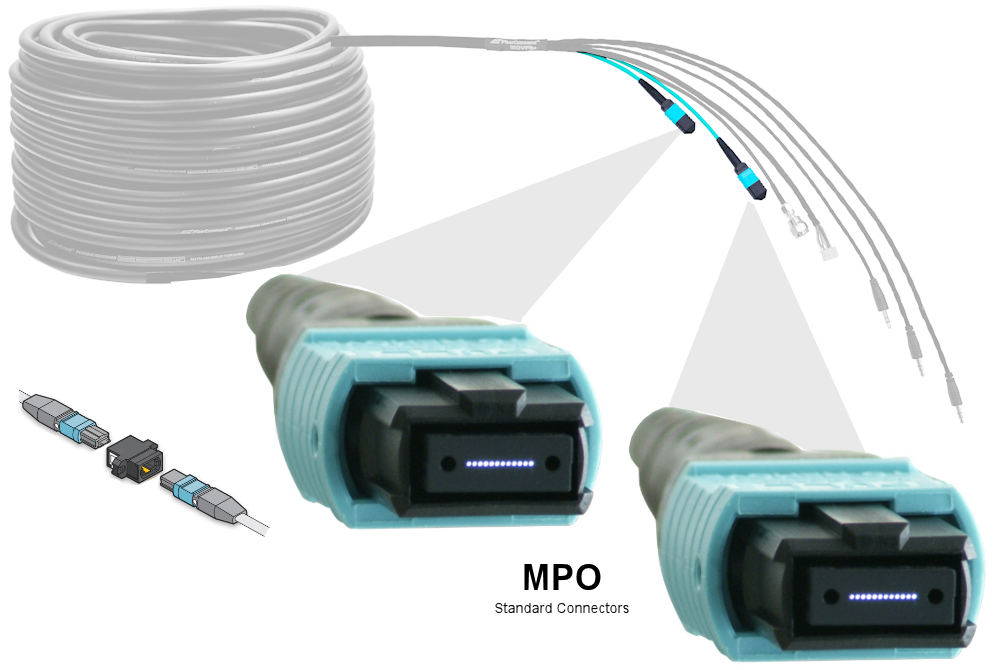 Everything in future is Fiber Optic, because the speed. Virtual Reality, Work from Home, Next Generation AI, Internet, VR Social, On-Demand Cinema, 4K, 8K, all is about the best Speed. Fibercommand IROvF comes Pre-Terminated with the Best Industry-Standard MPO Fiber Optic Connectors, used by professional Internet Providers in the main data-centers for their absolute reliability. Each MPO plugs has 12 OM3 fiber optics carrying 100 gigabit speed on each fiber for a total of 2.4 Terabit per IROvF Cable, future proof.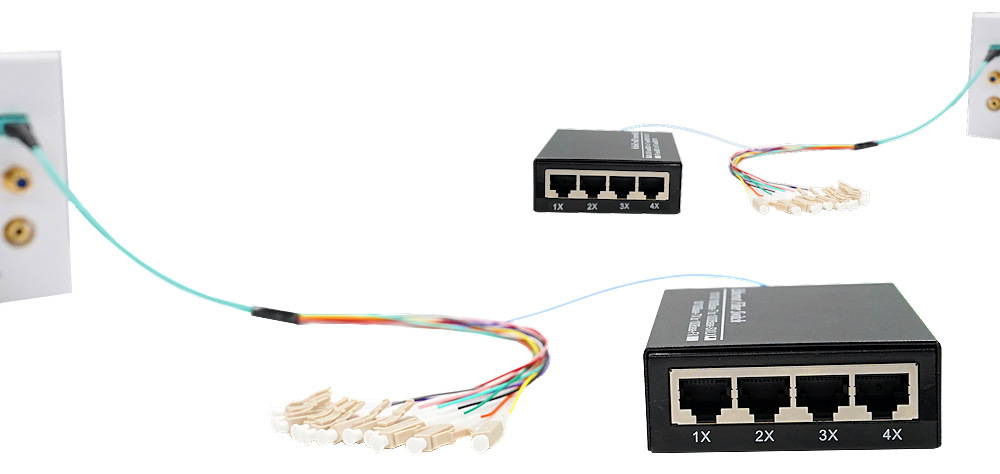 IROvF fiber cable brings the Fiber Internet speed from the modem to every room. With the Included 12 PLUGS Fiber PigTail, 12 fibers are available in each room.
One Fiber is used to connect the included Fiber To electric ethernet adapters switch set, to connect Four devices with standard ethernet connection such as SMART TV Internet Streaming, Laptops, Gaming Consoles, IP Phones, Wifi access points, Smart Home Hubs, etc. The remaining 11 LC Fibers Plugs has 100 Gigabit of capacity each and are free ready to connect any Fiber Device such as extra TVs, Monitors, Gaming, KVM, USB and any future direct-fiber device at full fiber speed.
IROvF includes our one set of our Exclusive Patented removable HDMI Fiber Connectors which can be installed In the wall without requiring any power.
HDMI allows to install any AV Equipment away from the room and just the TV in the room. Different from any old-style CAT-6 copper HDMI extenders, our fiber plugs does not introduce any compression, so the Video & Sound are perfect, same as the original up to 48gigabit HDMI 2.1 HDR10+ 4:4:4 with full eARC to play the TV Sound directly on speakers via an AV Receiver such as Denon, Marantz, McIntosh, or any other brand, all compatible.
Cable can connect direct or via wall plates ( sold separately )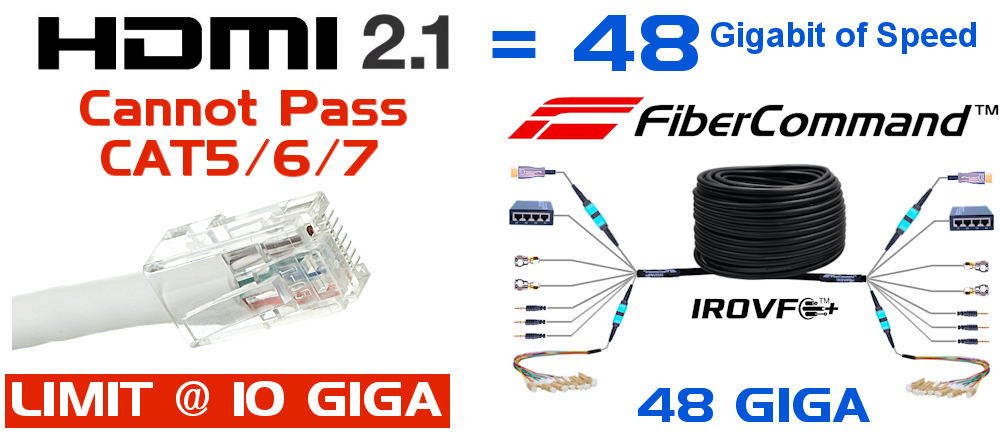 The newest HDMI Video formats such as 4K HDR 120Hz, 8K, Dolby Vision, REQUIRES 48Gigabit of bandwidth to pass.
Cat-6 Copper Cables stops @ 10Gigabit which means no matter what expensive HDMI extender is used the video will become COMPRESSED to pass the CAT-6 cable bottleneck, same as a Photo taken with a best camera then compressed to JPEG to reduce the file size. All CAT-X extenders compress the HDMI to pass the cable losing the HDR True original quality plus introducing LAGs dues to the processing.
IROvF is pure fiber optic so there is NO COMPRESSION and NO EXPENSIVE HDMI EXTENDERS, delivering the very best ORIGINAL VIDEO & SOUND QUALITY without any lag and the pain of multiple power supplies to power these extenders, rising maintenance and energy bills
IROvF does not limit your entertainment speed & quality, saving you money!

IROvF Fiber Cable can add up to 4 HDMI 2.1 over the same cable by purchasing multiple HDMI Fiber Optic plugs with the related main cable splitters.
Multiple HDMI can be used to feed different HDMI signals to a TV in the room over multiple inputs such as Cable TV / PS5 or XBOX / Security DVR / Apple TV etc.
HDMI can be configured Bi-Directional at any time by swapping the Source & Display eachothers, as example to send from the room a signal from a gaming console with local Bluetooth controllers back to an AV receiver input, and return the 8K HDMI from the AV receiver back to the Room TV or Projector without any Lag or Loss.
The cable also supports up to 18 HDMI 2.0b 4K60 connections by using our special KVM adapters to configure more complex video systems over one cable.
These HDMI expansions are each sold separately and can be added at any time plugging into the wall plate without changing the installed cable.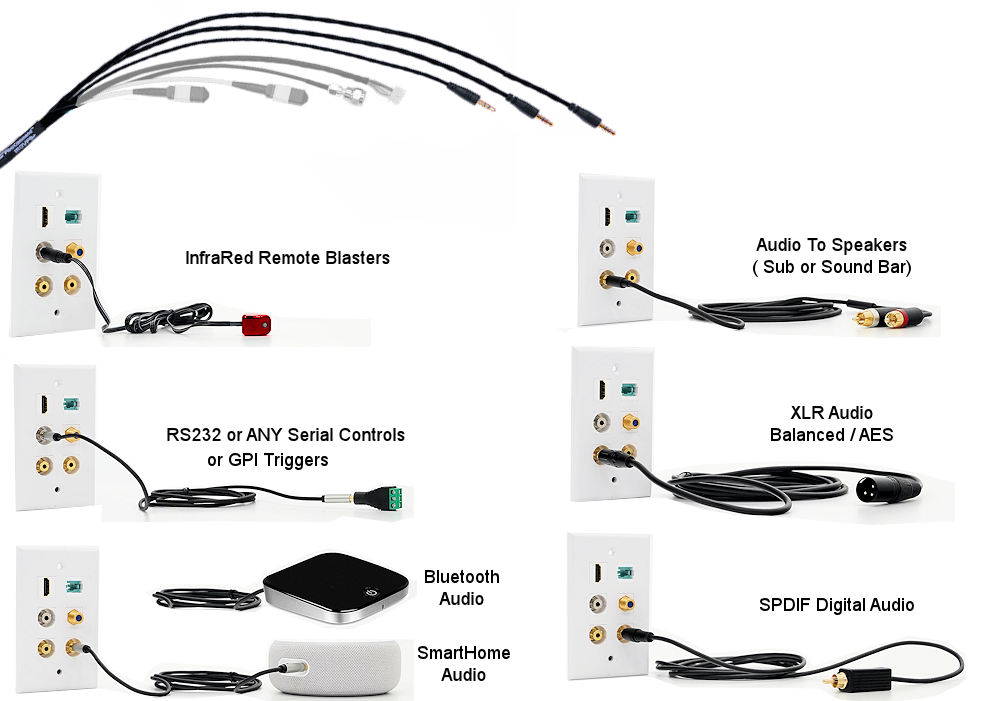 IROvF PRO Fiber Cable includes Three 3.5mm Gold Plated minijack digital/analog links to connect any Audio, Data, Controls, Serials, Triggers, Digital or Analog, with 100dB s/n professional performances. Easy play the Alexa music over the Hidden AV Receiver to the room speakers, Bluetooth audio, connect balanced XLR audio to sub woofers, spdif, aux sound to the sound bar, control screen projector triggers, or use them for phone, alarms, smart homes, anything is compatible.


IROvF PRO Fiber Cable can connect our USB-ZERO gaming controllers extenders to connect any Keyboard / Mouse / Joystick controller from the room back to the Gaming computer or console away in the AV closet, so there is no need to keep the gaming hardware in the room with noise and heating.
Our USB-ZERO kit deliver the proper USB power to turn on properly any gaming controller with Absolute ZERO-LAG performances, SAME as when directly connected to the gaming computer or console. USB-ZERO Kit is sold separately and can be added at any time plugging into the IROvF wall plate.
A VR VIRTUAL REALITY USB-C 3.2 connection accessory is also available on this site to play VR wherever is wanted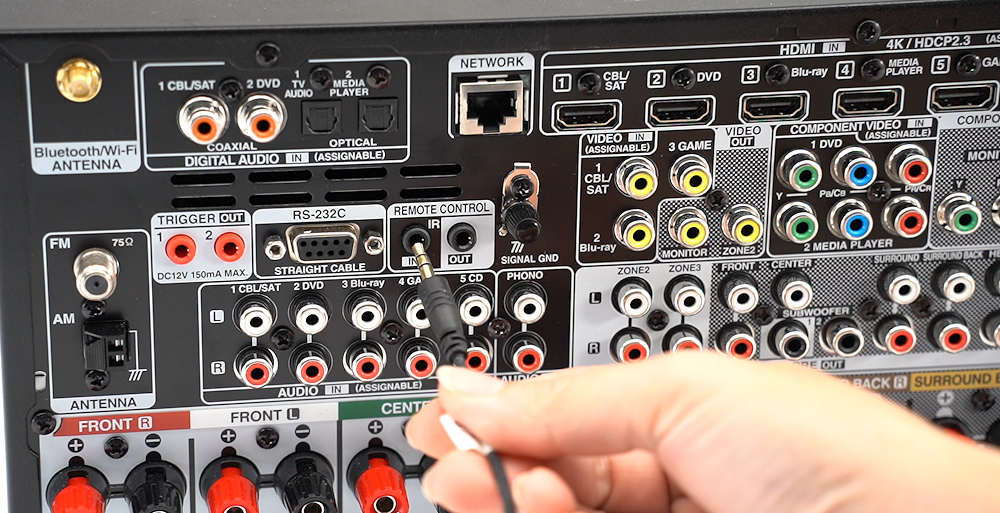 IROvF PRO Fiber Cable has all the connection to make any room a Surround System room at any time.
Simply add the ceiling speakers in that room together with an AV Receiver in the AV closet where all the IROvF cables goes, done.
Making a Whole House Sound System is very simple, as you can MIRROR the music source between the different AV receivers ( one per each room ) and simply select the same music source in each room to play the very same music, with surround quality and ZERO delay.
Keyboard / Mouse / Monitor

Use one fiber plug from the IROvF PRO fiber cable to connect our KVM adapter (each sold separately) to install noisy & heating workstation computers away from the room and just the Keyboard Mouse and monitor on the desk with full 4K60 HDR Uncompressed Resolution.
Add multiple Kits on multiple fiber plugs to work with multiple computers at the same time.
IROvF brings the Home Office professional performances to the next level avoiding fatigue caused by workstation fan noises, keeping the installation simple and clean.