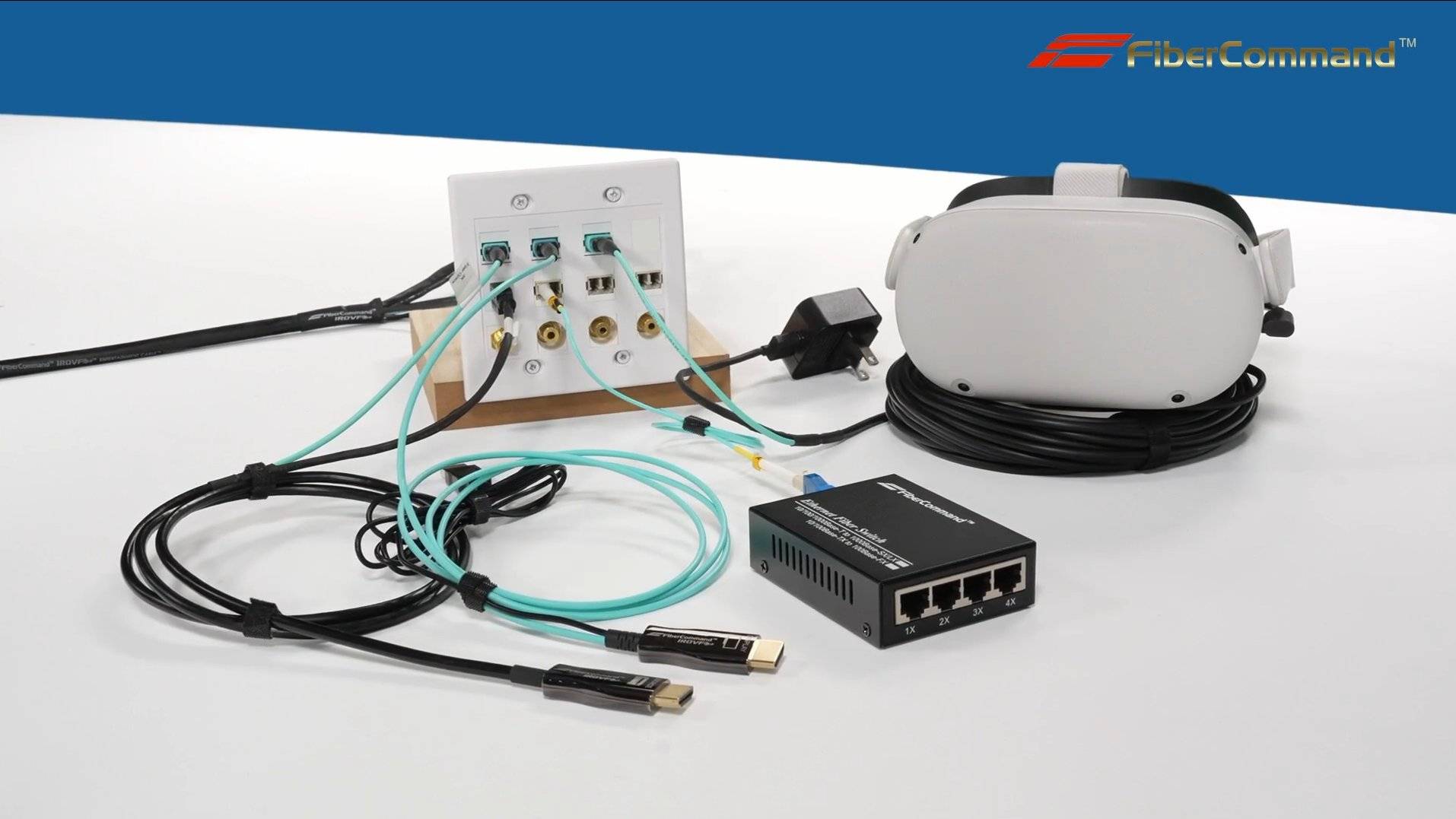 PUREFIBER® PRO - | PRE-TERMINATED HYBRID FIBER CABLE WITH 4K 8K ENTERTAINMENT
PureFiber PRO is the Best, most complete Whole Smart Home Wiring Hybrid Fiber optic cable, designed to connect fiber-speed internet to each room together with smart-home controls, 4k 8k entertainment, sound, speakers, all in one fiber optic cable.

Same Cable, same wall plate, connect the room plugs you need
Fibercommand Pro: One Fiber Cable Does It All!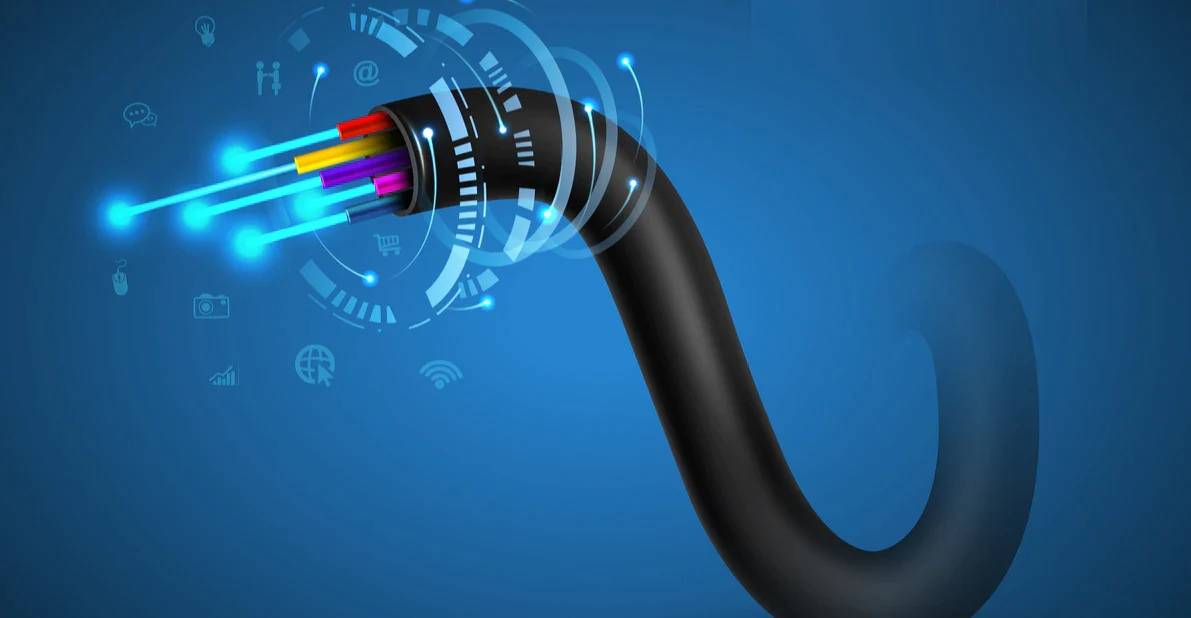 Optimized to withstand tight bends.
Highly flexible, optimized to perform sharp curves without signal loss.
TECHINICAL SPECIFICATIONS
Pre-Terminated Fiber+Electric (patented)
Our one-of-a-kind IROvF pre terminated "Fiber+Electric patch cord cables" (patented) makes every data & multimedia installations simple anywhere, with ready-for-signals plug 'n play connections without requiring expensive converters adapters.
Where standard Hybrid Pre-terminated cables does nothing, Our PureFIBER cables connects Audio, Video, Data, Bus, Smart Home, Fiber Internet, USB, VR, Controls, Alarms, Telephones, and all the ultimate signals direct of via common keystones wall plates.
Pony-Tail Staggered Connectors (patented)
Pre-Terminated connectors are staggered to reduce the pulling diameter through walls, conduits, raceways.
Our cable can pull through a 3/4" conduit leaving space for any extra or pre-existing cable.
Connectors comes protected by a plastic wrap plus an outer Nylon braided sleeve, ready for any construction site, weather-proof.
A Kevlar Strands cord attach to any Fish Tape or Old Cables to pull the PureFIBER cable through anywhere, also very crowded conduits with 90 degrees turns, without any risk to damage the fibers
Two MPO Female connectors with 12 OM3 Multi Mode Fiber Optics each - Total 24 Fibers
Each Fiber strand supports 100 Gigabit/s Speed
Total Cable Bandwidth is 2.4 Terabit/s
MPO connection standard is TYPE-A Straight (1to1 - 12to12), no crossing.
MPO can be connected direct or via MPO Keystones through wall plates
Three Gold Plated Hi-Bandwidth 3.5mm TRS Plugs links for any Analog/Digital/Bus/GPI/Trigger/IR signals
Each TRS plug ( Tip , Ring, Sleeve ) has a Ultra High Velocity twisted pair shielded cable delivering >100dB s/n for analog applications such as unbalanced mono or stereo or XLR balanced audios.
Any combination mono or bi-directional signals can transported over the three TRS without interfering eachother.
Typical connections includes: L/R Analog audio, SPDIF digital audio, AES EBU XLR audio, IR Infrared remote control blasters, GPI & Triggers for screens or controls, Analog Telephone lines, Alarms, Smart Home Data Bus, Sound Feed to Sound Bars or SubWoofers with zero noise zero lag, Music return from in-room bluetooth receivers or DJ systems or voice controlled Smart Home players to feed the sound from the room back to the amplifiers, AUX sound feed to sound bars for whole home sound distribution, USB 2.0 gaming controllers extension with absolute zero lag using our USB ZERO adaptor, any other analog/digital signal within 1 Mhz bandwidth.
TRS can be connected direct or via 3.5mm Keystones through wall plates.
Variety of 3.5mm adapter connectors or cables are available to connect TRS to XLR, Screw Terminals, RCA, BNC, or any other type of connector, also with extension cable from a wall plate to the device.
Our special eARC Priority Dedicated Gold Plated connector transports perfect full uncompressed eARC Enhanced Audio Return Channel for up to 330 feet ( 100 meters ) with no loss.
Different from other cables, the PureFIBER transports the ARC / eARC over a special link ( patented ) dedicated ( not shared with other signals ), unique in the industry.
As result, the PureFIBER PRO cable is the Best cable for 4K 8K Vision Atmos Home Theater installations.
Ultra-High performance 75ohm Digital Coaxial for any 3G-SDI Video, RF Television (SAT/CABLE/AERIAL), digital bus, Security Video Cameras, Smart Home Data, MOCA, A/D audio, USB controller extension system (in addition to the TRS links)
Gold Plated Coax connector is SMA 75ohm (custom) and comes with SMA to F adapters for both sides of the cable
CL3 FT4 Fire Rated for commercial & residential applications
UV Rated can be used directly exposed to sun light outdoor, water-rain-weather resistant.
Can be buried in conduits, resist to outdoor moisture.
In-Wall Rated, LZSH - Plenum, In-Conduit, In Door, Out Door.
Operating Temperature Typ. -40°C to +105°C
Outer Jacket Diameter 10 millimeters
Max Pull Diameter (at largest connectors point) 0.58 inches / 14.77 millimeters
HDMI Terminations (included accessory)
Detachable Fiber Optic HDMI Termination (patented)
World-Wide Exclusive patented 8K Removable Fiber optic termination allow to pass the main cable anywhere then connect the HDMI, reducing the required diameter of the main fiber cable to pass in any conduit without the risk of damaging the HDMI connectors.
Removable HDMI connectors can be replaced at any time without the need to replace the entire cable, making the PureFIBER solution ideal for Home, residential, commercial integration, replacing slow cat6/7/8 extension solutions which also limits the HDMI quality to max 10 gigabit, bottleneck of the cable speed.
Full HDMI 2.1 HD/4K/8K/10K
Our LASERTAIL PRO fiber optic HDMI extenders terminations supports all HDMI formats up to the latest HDMI 2.1 48 gigabit.
Specifications includes:
- Fiber Optic laser transmission for pure error-free noise-free connection of video & sound no copper cable can do.
- Full Compatibility with any legacy HDMI TMDS up to HDMI 2.1 FRL 48gigabit/s full speed
- Full Compatibility with any legacy HDCP up to HDCP 2.3 or Higher
- backwards compatible with earlier HDMI versions such as HDMI 1.3/1.4/2.0a/2.0b
- supports any resolution including SD HD 3D 4K 8K 10k
- Supports all frames rates including 4K@30 4K@60 4K@120Hz 8K@60 (and world-wide variants)
- Supports DSC 4K@240Hz
- Supports 4K@144Hz 4:4:4 Uncompressed
- Full 4:4:4 HDR10+ Uncompressed (HDMI 2.1 Standard FRL 48gigabit full speed)
- Dolby Atmos, THX, TRUE-HD, object-based audio, uncompressed 5.1 and 7.1, and 32-channel uncompressed audio
- Full Specs HDMI 2.1 including DSC, ALLM, QFT, QMS, VRR, Dynamic HDR,
Extended Length eARC (patented)
Unique on the market our special Dedicated eARC Exclusive Priority link connects the sound from the TV or projector back to the AV receiver up to 330 Feet (100 meters) away in the basement or electrical closet without losing the original surround quality while playing movies or apps on the smart TV. Since there is no compression, no wire-sharing with other signals, our eARC sound quality is Pure-Perfect, same as the original, with no loss.
Extended CEC Remote Controls
PureFIBER PRO Fiber Cables includes our Enhanced Hi-Velocity CEC Consumer Electronic Control link enabling the discovery and control of all the connected HDMI cec devices directly from the TV or Projector remote control, without the need for multiple remote controls. Simply connect your TV or Projector with our PureFIBER Cable to the AV receiver away in the basement or closet, and the TV/Projector will find all the devices. Only legacy old HDMI devices or non-cec capable devices will not be discovered, and for these simply use a traditional IR blaster such as our IR KIT.
Fiber Ethernet (included accessory)
Fiber To 4 Ports Ethernet
Single LC Fiber To 4 Ports Gigabit Layer-2 Adapter Hi-Performance Network Switch
Requires Just one single LC Fiber plug out of the available one in the PureFIBER cable
Convert 4 ports Gigabit Ethernet to Fiber with Zero Ping Lag for maximum performances on HD 4K 8K intrnet streaming, Internet TV, On-Line Gaming, Smart TV playback eliminating LAN Buffering or speed drops, Virtual Reality, Youtube broadcasting, Social Media, HD 4K 8K Live meeting, etc.
Full Modem Speed to the Room
Eliminates the Lag and speed drop or speed fluctuation caused by CAT-5/6/7 cables, delivering the full modem speed over fiber to each room.
Four Ethernet full-speed ports to connects Smart TV access/streaming, Smart Home HUBs in the room within the reach of smart devices such as lights, sensors, curtains, etc.., VOIP Phone, Wired Computer internet access, Gaming Consoles, in-room wifi AP access point repeaters, or any other combination.
On the Electrical Closet or cabinet side of the cable another 4 Port adapter connects to the Main modem delivering the full modem speed to other local devices (layer-2 switch) plus the room via fiber.
Multiple Cables to multiple rooms will have multiple of these 4 Ports adapters, so the first connects to the internet modem and then daisy-chain to the other 4 ports devices, creating a powerful scalable multi-port switch in the closet.
Simplify Fiber Internet Distribution
Where a Fiber Optic Internet Modem is installed, the PureFIBER PRO cable can connect the modem SFP fiber output directly to one of the available Fiber connectors, delivering Pure Fiber connection to the room.
In the room one of the 4 PORTS fiber to RJ45 Ethernet adapter will transform the fiber link from the modem to Electric for the classic ethernet devices connection
Fiber Breakout Pigtail (included accessory)
MPO To 12 LC Single Fibers
- Two Pigtails are included (one per each side of the cable)
Breakout 12 Fibers from one MPO fiber connector (main cable) to 12 single LC-Style single fibers connectors (OM3 Multimode Standard)
Each LC Fiber Connector provides 100 Gigabit of full fiber speed.
Each LC Fiber connector is COLOR-CODED making it simple to connect the same color both sides of the cable for a wanted connection.
Each LC Fiber connector is independent and has its own bandwidth independent from any other signal in the cable.
Multiple simultaneous expansions / terminations can be connected using the single LC Fiber connectors such as
- Additional Ethernet adapters to create separated newtorks (smart-home divided from internet) or KIDS SAFE Networks
- WiFi access points
- Extra HDMI Screens or sources (up to 12 extra HDMI 2.0b 128gbps HDR 4K60 4:4:4 on the same cable)
- One or multiple KVM Keyboard Video Mouse connectors to create meeting desks or home offices leaving the computers away
- Audio over Fiber
- Controls over Fiber
- RS232 over fiber
- IR over Fiber
- Any device with an SFP Fiber slot can be connected
- Future TVs with SFP ONLY network access will be connected using ONE single fiber (up to 12 TVs 8K)
- And more as Fiber optic is the future
Connect the Main cable inside the wall to an MPO Fiber Keystone.
Plug the Pig Tail from outside to the wall plate.
Connect all the devices to each single fiber
The 12 LC Fiber Plugs Pig Tail is 1 ft (30 centimeters) long and connect all the devices locally to the wall plate attached to the wall near by
Usually the wall plate and devices can be behind the TV or Monitor screens, or at the projector, hiding all the connections and extra devices.
Where needed, each of the LC Fiber connectors can be extended as needed with no loss using simple LC Coupler & patch cords to connect devices away from the wall plate such as on a desk, under a desk, or so.
Longer Pig Tails are also available upon request to fit any installation need.
Install the Cable & Decide Later what to connect
Connect anything Today & Tomorrow
A vast range of accessories are available to connect anything ( accessories to be purchased separately).
It is common to install the cable with a wall plate to each room or desk then add out of the wall plate any termination needed time by time.
Available Accessories & Terminations includes:
- HDMI 2.1 Termination Cords ( up to FOUR HDMI 4K/8K 2.1 48Giga over the same cable, also bi-directional)
- DP Display Port Termination Cords
- USB-C 3.2 termination cords (computer or Virtual Reality or any USB-C 3.x such as Web Cams, or other devices)
- USB 2.0 Zero Lag Gaming controllers adapters
- KVM Keyboard Video Mouse connectors pod
- Fiber Splitters to connect mode devices out of the wall plate plug
- IR InfraRed remote control blaster
- XLR cable for any Analog Audio / Digital Audio / DMZ controls
- RCA cable for any Analog Audio / Spdif / Subwoofer feed / aux audio feeds
- SCREW TERMINALS adapter for Triggers or GPI
Each LC Fiber connector is COLOR-CODED making it simple to connect the same color both sides of the cable for a wanted connection.
Each LC Fiber connector is independent and has its own bandwidth independent from any other signal in the cable.
Multiple simultaneous expansions / terminations can be connected using the single LC Fiber connectors such as
- Additional Ethernet adapters to create separated newtorks (smart-home divided from internet) or KIDS SAFE Networks
- WiFi access points
- Extra HDMI Screens or sources (up to 12 extra HDMI 2.0b 128gbps HDR 4K60 4:4:4 on the same cable)
- One or multiple KVM Keyboard Video Mouse connectors to create meeting desks or home offices leaving the computers away
- Audio over Fiber
- Controls over Fiber
- RS232 over fiber
- IR over Fiber
- Any device with an SFP Fiber slot can be connected
- Future TVs with SFP ONLY network access will be connected using ONE single fiber (up to 12 TVs 8K)
- Any Future Device, without changing the cable
Detachable HDMI PureFiber® Terminations
USPTO US20210223482A1; US20200343976A1; US 17224644; 16930729 ;63036256
WIPO International PCT 36857
CN 2020216970117 ; 067583000003
Patent pending in Taiwan, Germany, and other countries.
USPTO 63042803 ; 63310889 ; 63310880
WIPO International WO2021262153A1 ; PCT US2039129
Patent pending in Germany,Taiwan, China and other countries.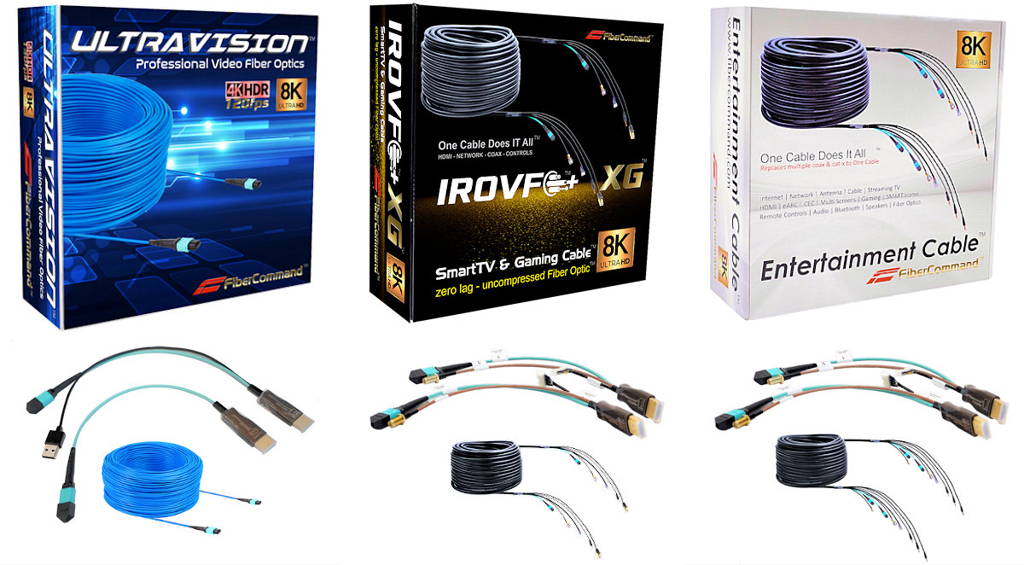 Wire Homes For the Future
With Fiber Optics Speed
Wire Homes For the Future
With Fiber Optics Speed
Fibercommand IROvF is the next generation Integrated Fiber Optic Wiring Cable to pre-wire Homes for the modern Fiber Internet & 8K Television delivering full fiber speed quality to every room with 2.4 terabit of bandwidth to satisfy any entertainment, data, tv, multimedia, sound connection.
Install the IROvF cable today, decide tomorrow what to connect, limit is the sky.
Upgrade To Light Speed
Copper Cables are limited in speed and introduces Lags no more acceptable with modern fiber internet, Streaming, Gaming, work from home and TV.
Moreover CAT-6 cables do nothing without expensive converters adapter boxes to connect any signal, which also increase the 24/7 energy bills.
IROvF is ready to connect, no need for converters, and delivers full fiber speed connection to every room together with auxiliary plugs to connect everything you need today and tomorrow, with the integrated flexibility we always wanted for our future-proof homes.
Simple Installation
Fibercommand IROvF fiber cables brings unlimited connection flexibility to every room, Living Room, Bed Rooms, Game Room, Man Cave, Patio, Office, all connections are always available without limiting todays and tomorrow ideas.
Everything in future is Fiber Optic, because the speed. Virtual Reality, Work from Home, Next Generation AI, Internet, VR Social, On-Demand Cinema, 4K, 8K, all is about the best Speed. Fibercommand IROvF comes Pre-Terminated with the Best Industry-Standard MPO Fiber Optic Connectors, used by professional Internet Providers in the main data-centers for their absolute reliability. Each MPO plugs has 12 OM3 fiber optics carrying 100 gigabit speed on each fiber for a total of 2.4 Terabit per IROvF Cable, future proof.
Fiber Internet to Rooms
Included!
IROvF fiber cable brings the Fiber Internet speed from the modem to every room. With the Included 12 PLUGS Fiber PigTail, 12 fibers are available in each room.
One Fiber is used to connect the included Fiber To electric ethernet adapters switch set, to connect Four devices with standard ethernet connection such as SMART TV Internet Streaming, Laptops, Gaming Consoles, IP Phones, Wifi access points, Smart Home Hubs, etc. The remaining 11 LC Fibers Plugs has 100 Gigabit of capacity each and are free ready to connect any Fiber Device such as extra TVs, Monitors, Gaming, KVM, USB and any future direct-fiber device at full fiber speed.
Need HDMI 4K/8K?
Included!
IROvF includes our one set of our Exclusive Patented removable HDMI Fiber Connectors which can be installed In the wall without requiring any power.
HDMI allows to install any AV Equipment away from the room and just the TV in the room. Different from any old-style CAT-6 copper HDMI extenders, our fiber plugs does not introduce any compression, so the Video & Sound are perfect, same as the original up to 48gigabit HDMI 2.1 HDR10+ 4:4:4 with full eARC to play the TV Sound directly on speakers via an AV Receiver such as Denon, Marantz, McIntosh, or any other brand, all compatible.
Cable can connect direct or via wall plates ( sold separately )
The Best Video Quality
The newest HDMI Video formats such as 4K HDR 120Hz, 8K, Dolby Vision, REQUIRES 48Gigabit of bandwidth to pass.
Cat-6 Copper Cables stops @ 10Gigabit which means no matter what expensive HDMI extender is used the video will become COMPRESSED to pass the CAT-6 cable bottleneck, same as a Photo taken with a best camera then compressed to JPEG to reduce the file size. All CAT-X extenders compress the HDMI to pass the cable losing the HDR True original quality plus introducing LAGs dues to the processing.
IROvF is pure fiber optic so there is NO COMPRESSION and NO EXPENSIVE HDMI EXTENDERS, delivering the very best ORIGINAL VIDEO & SOUND QUALITY without any lag and the pain of multiple power supplies to power these extenders, rising maintenance and energy bills
IROvF does not limit your entertainment speed & quality, saving you money!
Multiple HDMI ?
Add as you need
IROvF Fiber Cable can add up to 4 HDMI 2.1 over the same cable by purchasing multiple HDMI Fiber Optic plugs with the related main cable splitters.
Multiple HDMI can be used to feed different HDMI signals to a TV in the room over multiple inputs such as Cable TV / PS5 or XBOX / Security DVR / Apple TV etc.
HDMI can be configured Bi-Directional at any time by swapping the Source & Display eachothers, as example to send from the room a signal from a gaming console with local Bluetooth controllers back to an AV receiver input, and return the 8K HDMI from the AV receiver back to the Room TV or Projector without any Lag or Loss.
The cable also supports up to 18 HDMI 2.0b 4K60 connections by using our special KVM adapters to configure more complex video systems over one cable.
These HDMI expansions are each sold separately and can be added at any time plugging into the wall plate without changing the installed cable.
Connects Everything
IROvF PRO Fiber Cable includes Three 3.5mm Gold Plated minijack digital/analog links to connect any Audio, Data, Controls, Serials, Triggers, Digital or Analog, with 100dB s/n professional performances. Easy play the Alexa music over the Hidden AV Receiver to the room speakers, Bluetooth audio, connect balanced XLR audio to sub woofers, spdif, aux sound to the sound bar, control screen projector triggers, or use them for phone, alarms, smart homes, anything is compatible.
Gaming USB
Add as you need
IROvF PRO Fiber Cable can connect our USB-ZERO gaming controllers extenders to connect any Keyboard / Mouse / Joystick controller from the room back to the Gaming computer or console away in the AV closet, so there is no need to keep the gaming hardware in the room with noise and heating.
Our USB-ZERO kit deliver the proper USB power to turn on properly any gaming controller with Absolute ZERO-LAG performances, SAME as when directly connected to the gaming computer or console. USB-ZERO Kit is sold separately and can be added at any time plugging into the IROvF wall plate.
A VR VIRTUAL REALITY USB-C 3.2 connection accessory is also available on this site to play VR wherever is wanted
Home Theater Ready
Whole House Sound Ready
IROvF PRO Fiber Cable has all the connection to make any room a Surround System room at any time.
Simply add the ceiling speakers in that room together with an AV Receiver in the AV closet where all the IROvF cables goes, done.
Making a Whole House Sound System is very simple, as you can MIRROR the music source between the different AV receivers ( one per each room ) and simply select the same music source in each room to play the very same music, with surround quality and ZERO delay.
Home Office Ready
Keyboard / Mouse / Monitor
Add as you need
Use one fiber plug from the IROvF PRO fiber cable to connect our KVM adapter (each sold separately) to install noisy & heating workstation computers away from the room and just the Keyboard Mouse and monitor on the desk with full 4K60 HDR Uncompressed Resolution.
Add multiple Kits on multiple fiber plugs to work with multiple computers at the same time.
IROvF brings the Home Office professional performances to the next level avoiding fatigue caused by workstation fan noises, keeping the installation simple and clean.
Whole Home Wiring
Endless Possibilities
MULTIMEDIA ENTERTAINMENT READY
PUREFIBER PRO connects our detachable 4K 8K HDMI / DISPLAY PORT sound video terminations at any time, also USB USB-C plus any other control signal.
EXCLUSIVE Detachable HDMI 2.1 Fiber Optic Plugs
EXCLUSIVE Patented Removable HDMI 2.1 Fiber Plugs to pass the Cable through Walls or Conduits without damaging the HDMI Connector. Our connectors also includes our special long-range eARC audio return channel link to play over speakers plus our special eCEC Long-Run Consumer Electronics Control Link to remote control all HDMI devices from the TV remote. With Our IROVF Cables eARC & CEC works at any distance - For Real!

Fibercommand IROVF is the Newest Integrated Fiber Optic HDMI 2.1 Cable, specifically designed to wire homes with all the ultimate ultra-speed signals such as gigabit fiber internet, 4K/8K TV Streaming, Gaming, VR Virtual Reality, On-Line AI, and more, all in one cable, eliminating the need for multiple CAT-6 cables which not only cannot deliver the needed speed but also requires extra adapters to convert the signals.
With IRO-V-F Integrated Fiber Optic Home Wiring Cable all signals are pure uncompressed, converted between fiber and electric through the included fiber plugs, so no extra converters are needed as well no power, simplifying the installation.
The IRO-V-F Fiber Cable is indestructible with 12 armored Kevlar strands inside, you can pull through walls, conduits, residential & commercial rated.
HDMI 2.1 Fiber Optic Ends are snap-in detachable from the main cable, to pass the cable anywhere without damaging the HDMI, as well replaceable at any time in case of need without need to remove the cable.
IRO-V-F cable includes 24x OM5 Fibers over Two MPO Female TYPE-A straight connectors, industry standard compatible to everything, for a total bandwidth of 2.4 Terabits Uncompressed.
IRO-V-F is exclusive world patent of Fibercommand, see our patents section for more details.