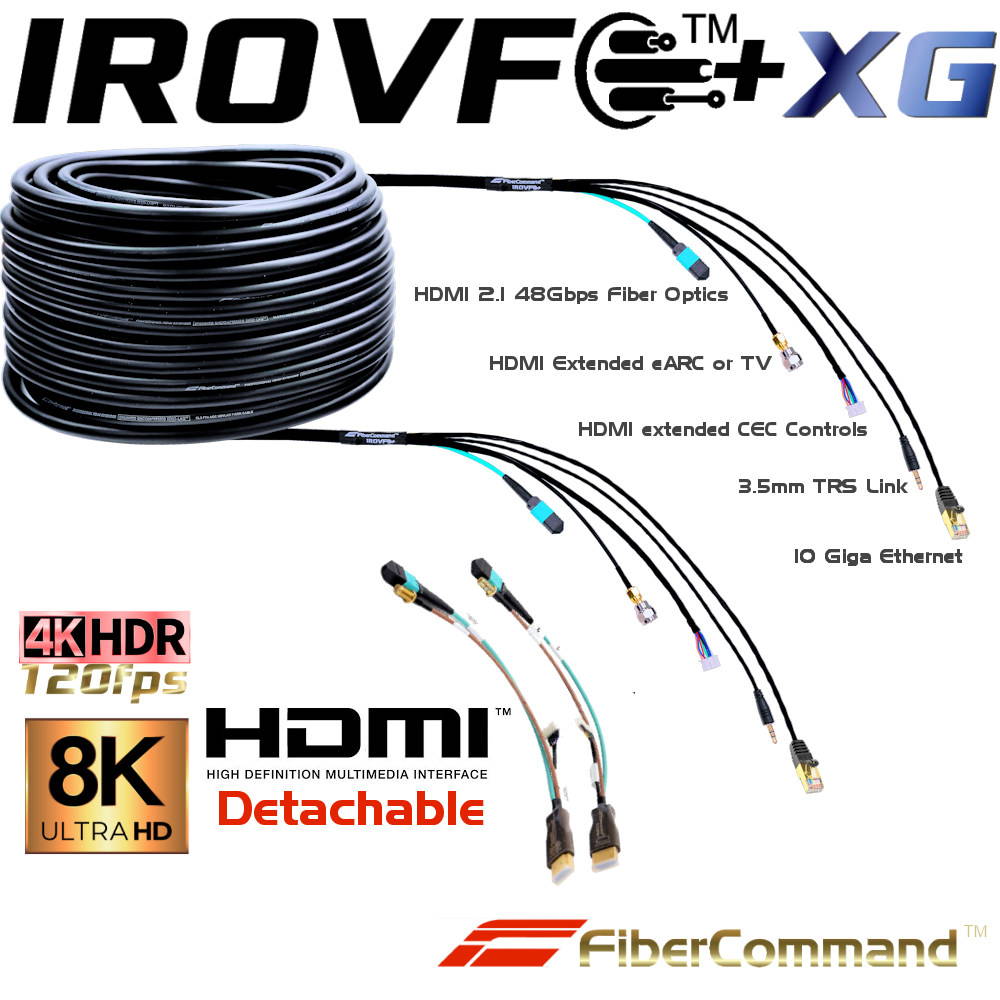 Why FiberCommand HDMI Cables Are THE BEST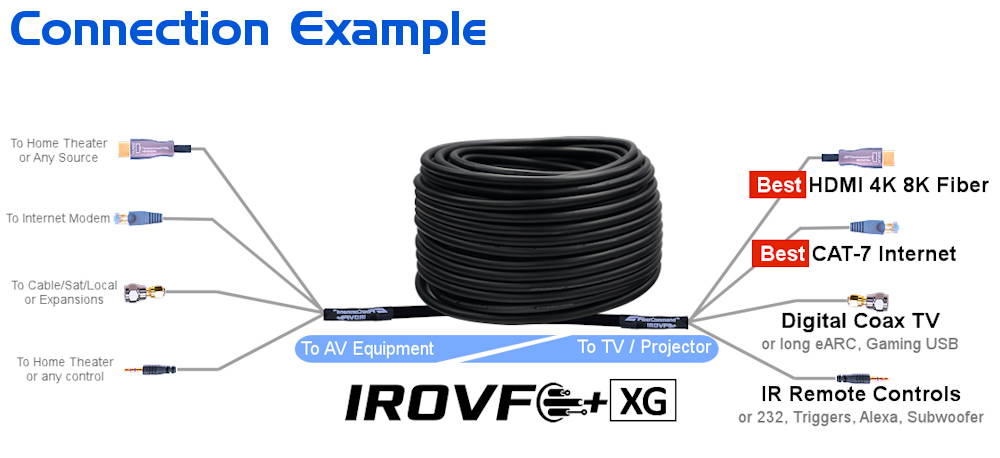 Fiber Optic HDMI 2.1 Cables
Our Fiber Optic HDMI 2.1 Cables Delivers the best Full 48Gbps 4K 8K 120Hz HDR quality for the Best HDMI 4K/8K Audio Video
The Best HDMI Slim Run Cables

4K/8K HDMI + Fiber Internet +
TV + Sound + Smart Home All_Ultra_Speed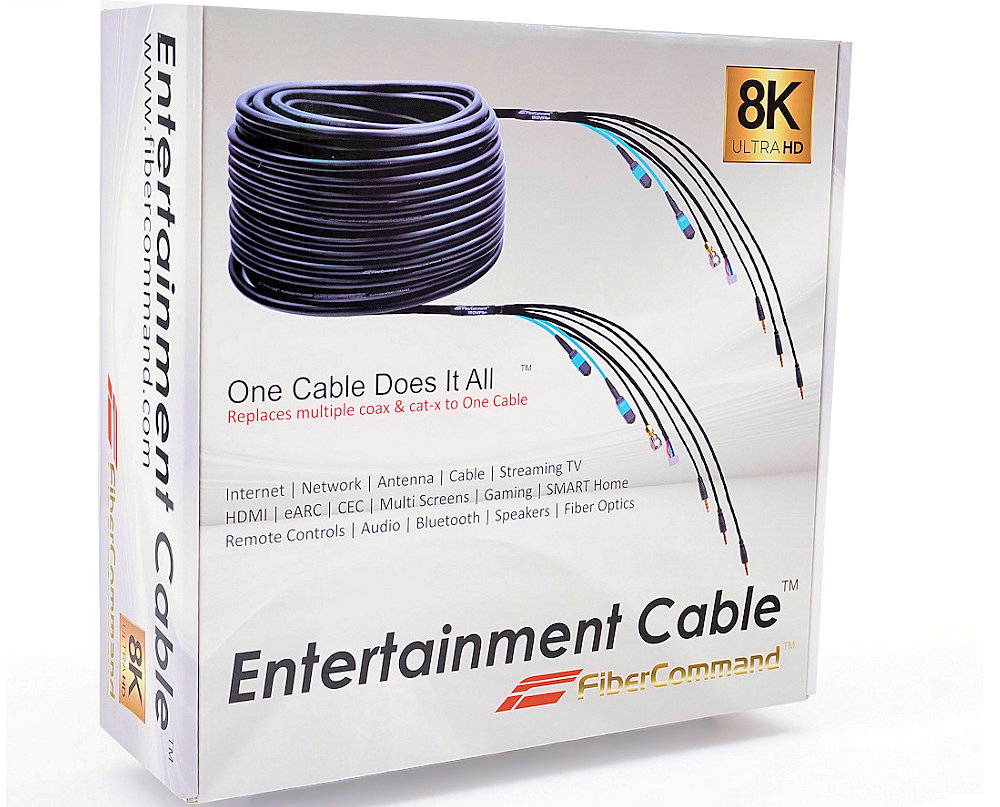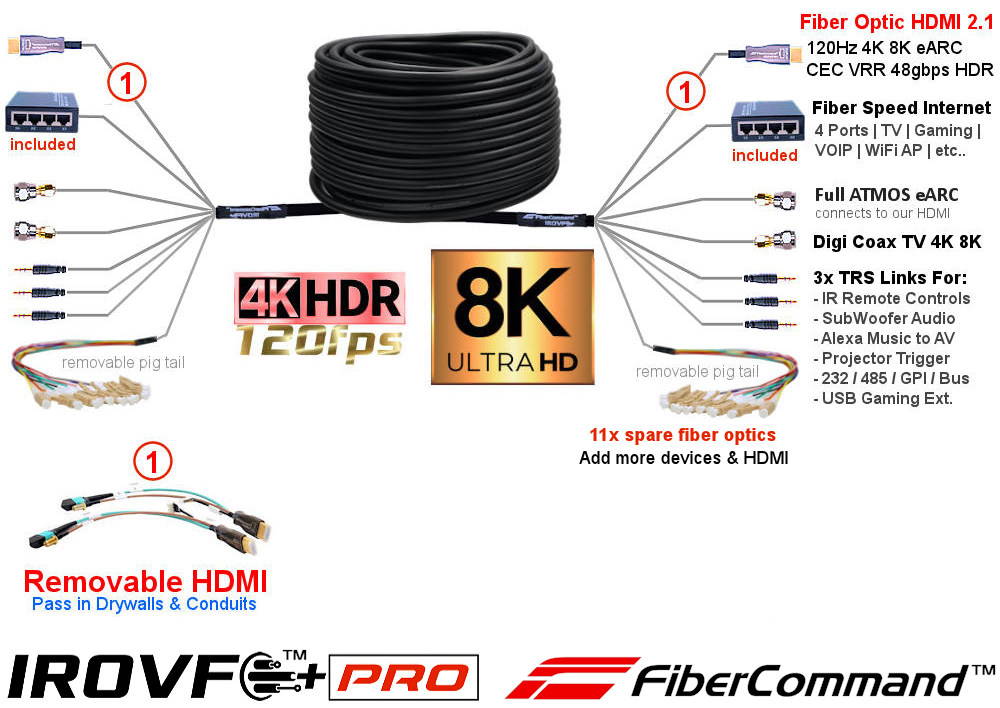 Integrated Fiber Optic Cable
Replaces Multiple CAT-6/7/8 cables
no more need for extra external adapters
2.4 Terabit speed future proof Home wiring
Armored Kevlar indestructible Fiber Cable
With Removable HDMI plugs interchangeable
Ultra Flexible & Slim pass into 1/2" conduits
Pass via Common Keystone Wall Plates


In Wall Rated for Commercial & Residential



Fiber Optic HDMI 2.1 4K/8K 120Hz 48Gbps
with detachable Modular HDMI Connectors

Can Expand up to 4x HDMI 2.1 on same cable


add at any time our extra accessory HDMI plugs



Fiber Optic Ethernet with 4ports per side
connect TV / PC / Gaming / Local WiFi box
IR Infrared Remote Control or 232 Link
connect TV/AV Receiver or any IR Blaster
TRS Smart Home Link Analog or Digital
connect Audio or Data or Smart Home Bus
can use for Alexa Music to AV Receiver
or any Smart Home Control or Trigger
Pro Audio Link Analog or Digital
send audio to Sub-Woofer or Sound-Bar
Digi Coax 4K 8K TV
connects classic Sat/Cable/Aerial to TV

11x SPARE Fiber Optics
Add More Devices & HDMI at any time

No Power Supply Connection Required


Our Fiber HDMI powers on from the HDMI source



Lightning Surge Proof
CAT-5/6/7/8 copper cables are long antennas
and captures lightning surge damaging equipment
IROVF protects your equipment because
fiber optics does not pick up lightning surge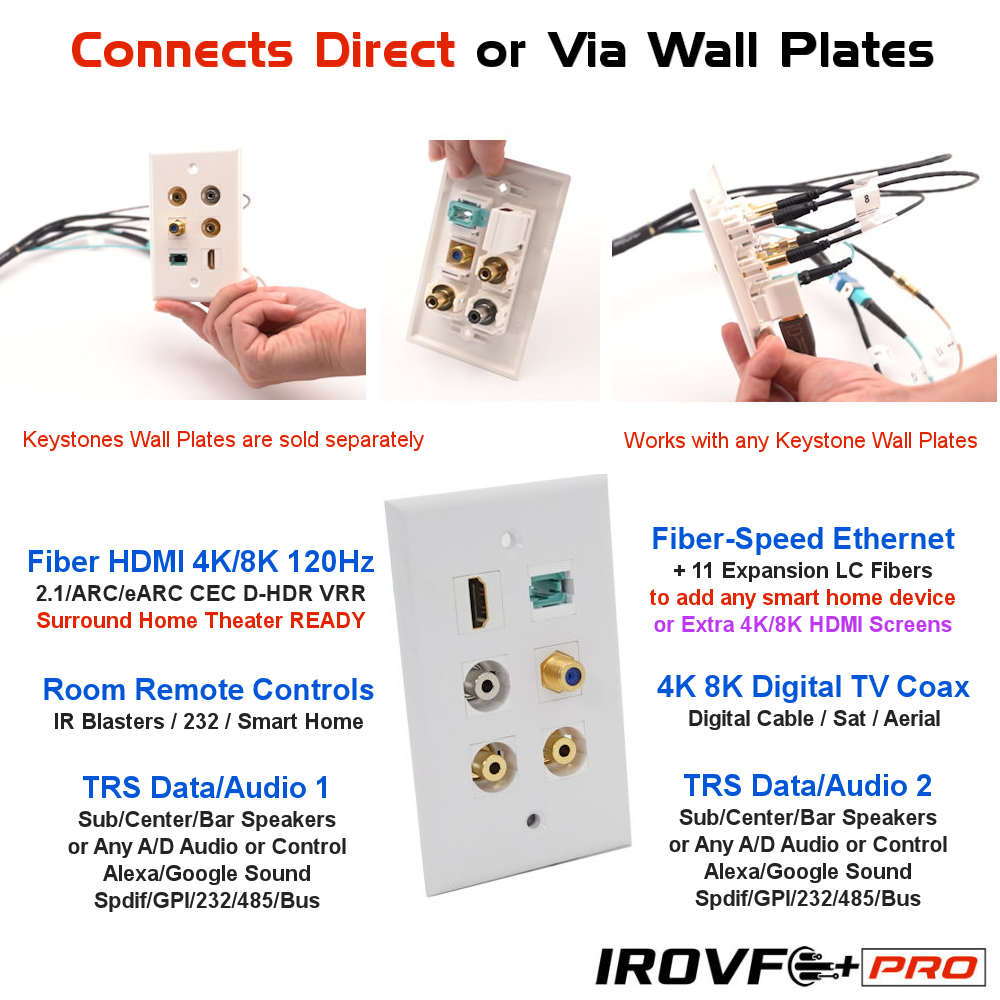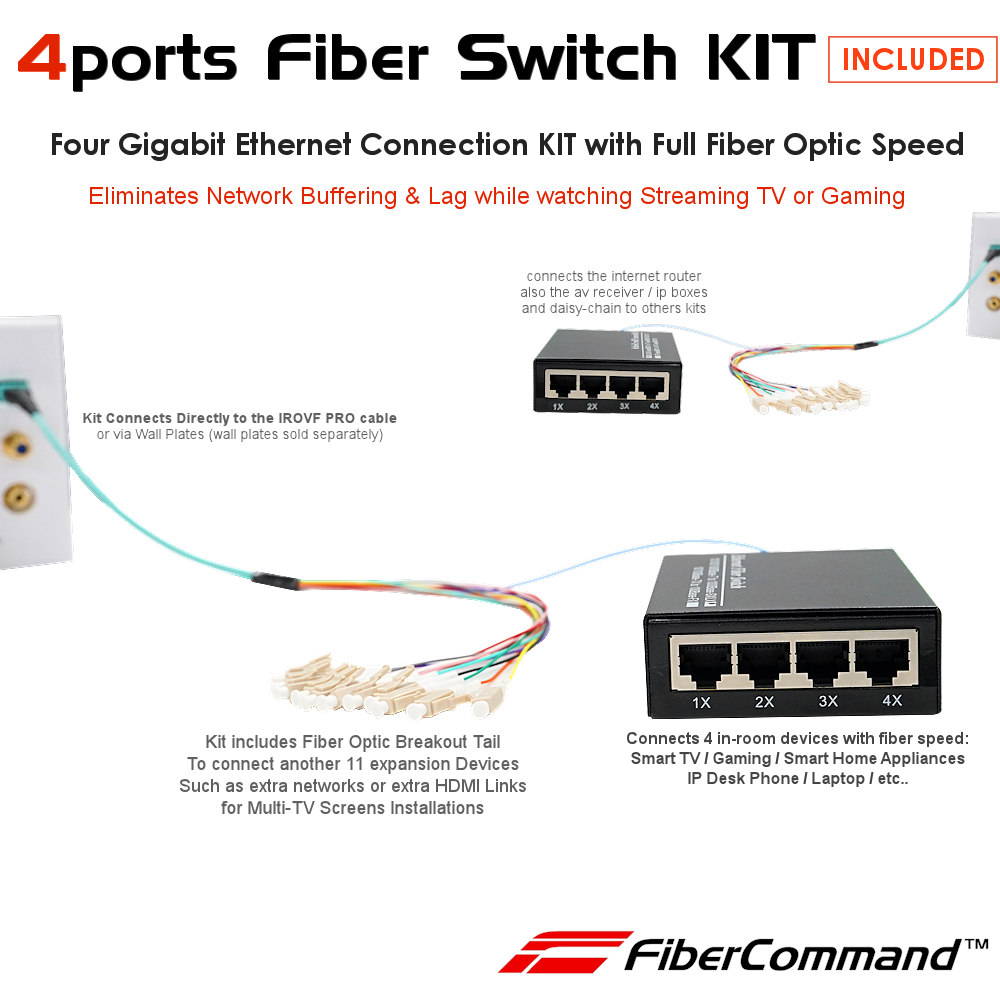 Best Pro HDMI 8K Gen3 Cables
Best Pro 8K HDMI Gen3 Fiber Cables with latest Fiber Optic Technology for the Best Ultimate 4K 8K Dynamic HDR HDMI 2.1 / long range ARC-eARC / VRR / ALLM / Long Range CEC for integrated Remote Control / Detachable-Replaceable HDMI Plugs to pass in wall or conduits / Internet Fiber Speed to for best 4K 8K TV streaming connection to the router at full speed / as well integrated 4K/8K digi coax TV / Fiber Optic Home Network / Smart Home Controls / Audio Video / Home Theater / Multi-HDMI per cable / and more with free expansion fibers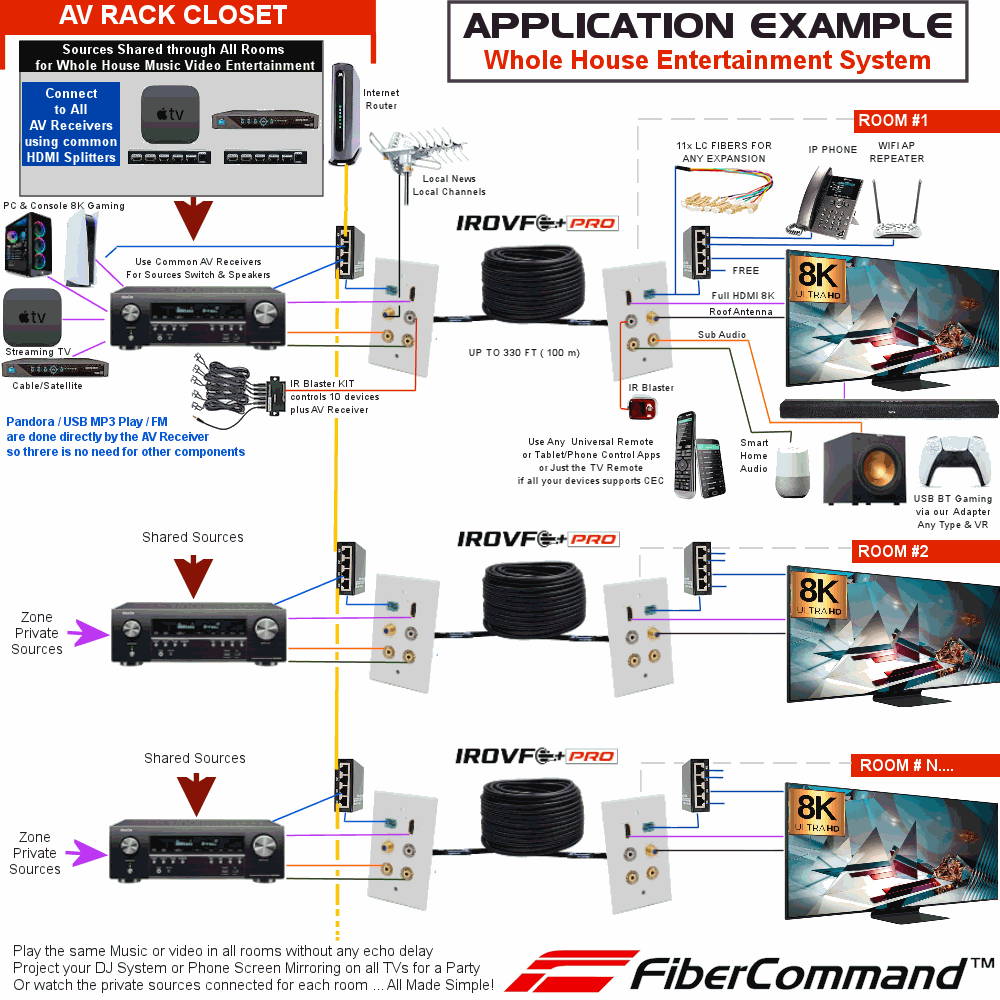 Fibercommand IROvF is the Newest Integrated Fiber Optic HDMI 2.1 Cable, specifically designed to wire homes with all the ultimate ultra-speed signals such as gigabit fiber internet, 4K/8K TV Streaming, Gaming, VR Virtual Reality, On-Line AI, and more, all in one cable, eliminating the need for multiple CAT-6 cables which not only cannot deliver the needed speed but also requires extra adapters to convert the signals.
With IROvF Integrated Fiber Optic Home Wiring Cable all signals are pure uncompressed, converted between fiber and electric through the included fiber plugs, so no extra converters are needed as well no power, simplifying the installation.
The IROvF Fiber Cable is indestructible with 12 armored Kevlar strands inside, you can pull through walls, conduits, residential & commercial rated.
HDMI 2.1 Fiber Optic Ends are snap-in detachable from the main cable, to pass the cable anywhere without damaging the HDMI, as well replaceable at any time in case of need without need to remove the cable.
IROvF cable includes 24x OM5 Fibers over Two MPO Female TYPE-A straight connectors, industry standard compatible to everything, for a total bandwidth of 2.4 Terabits Uncompressed.
IROvF is exclusive world patent of Fibercommand, see our patents section for more details.